A quick guide to preparing for the Byzantine reign of Brennan III and Caoilfhloinn III! 
Because of demand for the duration of the reign, I'm leaving this page live until the fall to help folks out.
I know there is a lot here, but please, take the time, read, learn, and don't just copy from an image I have here, since they're being used to demonstrate different things. If anything is confusing, please don't hesitate to ask me for clarification. What makes sense to me, may be Greek to you, (pun intended.)
Their majesties have decided that 10th Century Byzantine will be the theme for the reign, inspired by period artwork, and access to primary source material from the period.
The primary document that the coronation ceremony will be based off of is De Cerimoniis, by Constantine VII Porphyrogennetos, but tailored for more SCA friendly application. The primary manuscript clothing will be based on, is The Menologion of Basil II, archived as Vat.gr.1613. It's later than De Cerimoniis, but it's by far the most comprehensive, well-preserved document of art contemporary to the period. (Late 10th, early 11th.) Another great manuscript from within the 10th Century is the Paris Psalter (Cod.Par.Gr.139.)
You can find the Menologion in its entirety on Wikimedia Commons: https://commons.wikimedia.org/wiki/Menologion_of_Basil_II
The document itself is held in the Vatican Library here:  https://digi.vatlib.it/view/MSS_Vat.gr.1613
The Paris Psalter is at the Bibliotheque Nationale in Paris, and is found here, but note that the clothing in this is mostly "classical" Roman, as it's a Biblical Manuscript, but it gives you a good idea on color and embellishment ideas, practically no women at all: http://gallica.bnf.fr/ark:/12148/btv1b10515446x/
De Cerimoniis is expensive to obtain in English, but you can find pertinent translations here: http://www.paulstephenson.info/trans/decer.html
-Constantinople in the 10th Century
The second iconoclastic period ended in 842, so by the time the 10th Century was in full swing, iconography, manuscript writing, and other art was coming back to the empire in full swing.  A large majority of Byzantine artwork that survives today is from the period of the 10th-12th Centuries.
Here is a very, very short collection of events and interesting facts that I picked to help people find a niche during this reign.:
-Conflicts: 
-The Rus'-Byzantine Wars spanned most of the century into the early 11th Century.
-The Byzantines conquered Bulgaria from 970-1018 (part of the Rus-Byzanto conflicts.) It was during this time that the formal Varangian Guard were first formed.
-The Sack of Thessalonika in 904 was a decisive victory for the Muslim Saracens. This was chronicled by  John Kaminiates, you can purchase his The Capture of Thessaloniki from Amazon.
-Academia:
The Book of the Eparch is a living document at this point. A sort of manual to the prefect or eparch of the city, it entails a great deal of economic information ranging from the management of banks to an entire break down of the intricate silk guild system. It is a dry read from cover to cover, but invaluable for individual studies. You can read more about it, here: http://www.paulstephenson.info/trans/eparch.html
De Cerimoniis, as previously mentioned, was written by Emperor Constantine VII as the pivotal manual of court ceremony at this time. Another document that was authored by him was De Administrando Impero, the Latin title of Πρὸς τὸν ἴδιον υἱὸν Ρωμανόν ("To [my] own son Romanos") Written as an actual operating manual of sorts of the administrative side of being Byzantine emperor, containing a variety of information on both domestic and foreign policy. It is available entirely in English here, for the strong-minded who like to read such things:  http://homepage.univie.ac.at/ilja.steffelbauer/DAI.pdf 
Hero of Byzantium authored two treatises on siege weapons. So, if you really want to get extra into the reign at Pennsic. You can download the whole Dumbarton Oaks paper here: http://terpconnect.umd.edu/~sullivan/Siegecraft.pdf
-Artwork:
The "Bamberger Gunthertuch" is an object of my study. A Byzantine tapestry that was turned into a burial shroud in Ottonian Germany. You can read both of my articles on it here and here.
Most of the mosaics in the Hagia Sophia are from the 10th-12th Century, due to rebuilding efforts post-iconoclasm. One of the most beautiful is a dedication to the Virgin Mary and Christ Child (Theotokos) flanked by emperors Justinian I and Constantine I, as the architects of the basilica and city respectively, located in the Southwestern Entrance to the basilica. In this case, both emperors are shown in the contemporary loros costume, while Mary is in her typical 6th century noble attire icon "uniform". Iconography is a weird time capsule at times. I will talk about that a bit down the page.
Now, for what you all really want to know: 
-What the Imperials will be wearing
While we are all nobles in the SCA, it's important to differentiate who the Big Cheeses are, Byzantine attire is pretty good at this. De Cerimoniis certainly lays it out, especially when it comes to the do's and don'ts.
Their Imperial Majesties will be wearing what is defined by Maria Parani in her Reconstructing the Realty of Images study on dress and material culture, the khlamys costume. Discussion with his highness briefly yielded that the loros (seen above) is too cumbersome, but this is a viable and equally period alternative.
But what are these things with the weird names?
The loros is the winding thin length of heavily embellished cloth wound around the body, this hearkens back to the Roman toga. In such, the empress never wore this. She would wear a modified version that was less…insane.
The khlamys is the cloak pinned on the right side of the body. You see Justinian and Theodora wearing this in the San Vitale mosaics at Ravenna. This style carried over through the centuries, sometimes losing the tablion (big square embellishment) but nevertheless still ornate. According to Parani, this is something that was reserved for coronations, and the empress would usually only wear it then. Read a cited exploration of my cloak research here.
Here's some examples of the imperial khlamys costume in action:
The primary gown of the Imperials is the divestesion, which I am not posting a pattern of, since it is reserved strictly for the rulers.
Sumptuary Laws:
"But we don't have sumptuary laws in the East Kingdom!" Or as I coined a few years back, "Sumptuary anarchy!"
This is all very true, and nobody is going to be policing anybody on their garb or color choices. However, in order to create that picture-perfect Byzantine coronation, the populace should consider adhering to the list of angry red letters below. Like the Pirate Code, it's really only guidelines.
ONLY THE IMPERIALS CAN WEAR THE LOROS OR THE KHLAMYS.
ONLY THE IMPERIALS CAN WEAR RED SHOES.
ONLY THE INCOMING HEIRS (SEBASTOCRATS) CAN WEAR BLUE SHOES.
ONLY THE BARONAGE (LANDED AND COURT) CAN WEAR YELLOW SHOES.
ONLY EUNUCHS EMPLOYED IN THE TREASURY CAN WEAR GREEN SHOES.
ONLY THE IMPERIALS, CERTAIN HIGH OFFICERS, AND THOSE GIVEN IT AS A GIFT BY THE IMPERIALS, MAY WEAR THE TYRIAN PURPLE IN THE 10TH CENTURY.
"Shoes? Really Anna?" Yes. Really. Here's my write-up, with citations. I'm not checking your feet, so wear what is most comfortable for you. If you have the ability to adhere to the list, then go for it. If you aren't wearing Byzantine, then you definitely don't even need to worry about it.
As for the purple, there's a lot of misconception on what dictates imperial purple. Most purples today are indigo varietals, or the natural mix of blue and red dyes. True Tyrian Purple, extracted from the Murex mollusk, is more of a magenta that can range from pleasantly wine colored to eye-searing bright. This is the color family that you should avoid:
-What the populace should consider wearing
The populace seriously has more options than the Imperials do. Aside from a sideways cloak, red shoes, and the color purple, the approach to this period is limitless. This is a Coronation, so wear your best, but remember that everyday clothing should not be coated in pearls and jewels. It's just not that comfortable (and terribly expensive!)
One of my favorite money-saving tips is using vintage saris purchased from eBay. Cotton and silk are your best bet, "art silk" is polyester, so don't be fooled. You get basically 6 yards of fabric that's already trimmed and embellished, and can be transformed into nice garments with a little sewing ingenuity. I thank Duchess Aikaterine for inspiring me to give it a try.
Aside from saris, the fabrics of the period are cotton (yes, yes really), linen, wool, and of course, silk. Cotton was worn by the lowest classes, so keep that into consideration. Linen was typically underclothes, but it's an SCA favorite for everything, and wool and silk would be the outerwear.
Let's start with men's wear first:
Most men, even upper classes, wore knee-length tunics, sometimes layering short sleeves over long sleeves (or long over long, or just short with no long…), leggings/slim pants (think braies and chausses, a Byzantine design!), and either ankle or calf boots, depending on profession. Sometimes, you see leg wrappings.
Dr. Timothy Dawson has done a great deal more research on men's clothing than I have, and his gallery is available here: http://www.levantia.com.au/clothing.html
His site is not loading great for me, but I would recommend that the "Court Undress", "Sunday Best", and "Typical Outfit" be examined as the best possible looks for men in the 10th Century. His other impressions are specific court officials or later periods. He states that headwear was not typical in court for men until the mid 11th Century, but those interested in learning to wrap a turban will find his tutorial helpful, as well.
A good sewing pattern for a man's tunic would be the Manazan find.  I have yet to construct one (It's on my list), but a gentleman in Australia has a pattern here, which includes the period seam treatments: http://members.ozemail.com.au/~chrisandpeter/manazan_shirt/manazan_instructions.htm
If you find that pattern a bit too tricky, I will be posting my patterns at the end of this section.
Men should belt their tunics at their natural waist to create a bloused effect, and then if they are knighted or squired, consider wearing their fabric sashes in lieu of their white or red belts immediately below their chest. As seen here,: (I would recommend leaving your stones at home.)
Women's clothing:

If you already have experience making tunic dresses, you really don't need much more as far as the basic shapes of women's clothing goes, but there's a few different options as far as the look and drape you can achieve. Much like today, men's clothing maintains a basic standard, while women have options.
The basic look during this period is 2 layers: under dress, (kamision), and over gown (himation.) The sleeves don't get crazy wide until the second half of the 11th Century, which is where my persona lives, so don't feel obligated to go all out, here. You can layer short sleeves over long, or long over long. Or, if it's warm and you don't particularly wish to be aristocratic, you can wear one layer, even with short sleeves, as seen above in the miniature heading the men's section. Just exnay on the red booties.
Gowns during this period could be tailored (but not fitted or supportive, it's still loose) or very loose and baggy. I always tell interested parties to go with what they feel is best. I'm not a big fan of the very baggy and boxy tunics, since I'm pretty curvy. The icon below of St. Eudokia shows her wearing the box tunic, which creates the very baggy look at the arms. Please don't use this example as what to wear, she is in Imperial Loros Costume for an Empress.
The box tunic is my term for the oversized himation or overgown, but it's exactly what it sounds like. Ever see the images of the very square-looking "Coptic" tunics from Egypt? With a massively wide body and tiny sleeves that seem to make no sense for fit? Like that. The sleeves only fit your forearm, and the rest is very loose. A measurement +4 of the breadth between your elbows should probably give you the right width.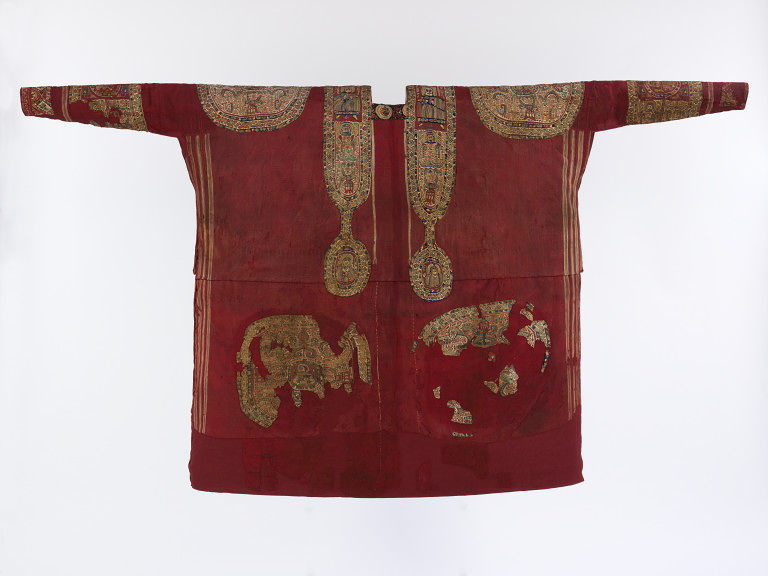 I personally prefer a more fitted style with side gores, which are also period. Like I try to tell people who come to my classes, there's no "one pattern to rule them all", much like there is no one dress style today. Go with what you feel is comfortable and the most flattering.
The other option, is the kolovion, or sleeveless overdress that seems to be a throwback to the Imperial Roman stola. This is seen in the Bamberger Gunthertuch, which I mentioned earlier in the page. I am not 100% sure if this was daily wear, or if it's simple symbology related to the personification of the political parties, but I can attest it's comfortable and generally flattering. Click on the picture to read about that more.
As far as belting goes, I tend to belt myself under my bust into a empire waist, or just above my natural waistline. A lot of artwork seems to agree with this practice.
Headwear:
The Byzantines were not super strict on headwear during court until the next century, but for most, a simple wrapped turban in white for men, and colored silks for woman, is just fine. There are some really interesting hat patterns that show up now and again, but most don't seem to hit the Constantinople Runway until the 11th Century. Women with long hair can consider various braids that wrap the head, or 2 or 3 French braids just laying flat.
Sewing patterns: 
These are my "quick and dirty" Byzantine patterns, based mostly on an extant tunic with gores at the Metropolitan Museum of Art, and a simple dalmatica from Ottonian Germany that was made in Constantinople, anyway. The box tunic and Manazan Caves tunic are just as accurate.
These are the same ones that I published in my recent Compleat Anachronist. 
Greek terms for tunic and dalmatic are kamision and delmatikion respectively. For ease of understanding this pattern, I use the English terms more often.
Thank you to Mistress Michel Almond du Champagne for digitizing my hand-drawn patterns.
Kamision (undergarment) instructions:
Recommended fabric: linen or very light wool
Recommended yardage: 4 yards of 60" wide
First, assess your fabric, and see if you can use this pattern layout, note the positions of the folds. This pattern is not to scale, and the average sized person may not have enough extra fabric on the sides to warrant the inclusion of the gores. This is okay, as they can be cut separately.
A breakdown of the measurements you will need as laid out in the patterns, they DO NOT include seam allowance:
A: Tunic length. Measure from the nape of your neck to where you want the tunic to end.
B: 1/4th Chest measurement + ease. Typically, what I do is take a chest measurement, divide it by 2, add 2 inches, and divide again by 2. That is your number.
C: Upper arm length has everything to do with the width of your fabric and not your arm. If you can fit the length of your upper arm (shoulder to elbow) here, that's awesome, but it's not necessary, you will want at least to the half-way point between your joints, otherwise your underarm will not fit.
D: ½ Bicep measurement. Remember your fabric is on the fold at the top for your sleeves here, so you don't want this to be very wide against your body. Tunics could be more fitted as dalmatics were not, so you will want to adjust ease here as necessary.
E: Lower arm length is the difference from where your upper arm length ends to your wrist.
F: ½ Wrist circumference is ½ the measurement you get around a closed fist. You want to get your hand into your sleeve, after all.

G: Gore length is the measurement from the top of your hip to the desired hem of the tunic. Now, if you have a fine derriere, so to speak, feel free to elongate that gore to your waist, but the original tunic's gore comes off the hip.
H: Make sure the base of the gore is not wider than the width of your front and back panels. This is important, because it will shorten the sides of the garment dramatically. A few inches narrower is best.
There's a variety of formulas out there to make a neckline. I have a small neck at 13", so my go-to cut is 4" from the center point on each side, with a 1" dip in the back and 3" dip in the front, but a 2" dip in the back and a 4" dip in the front should fit most people. A boatneck, or basically just a slit, is also a common style for this period. The tunic at the Met has a keyhole neckline with the opening on shoulder seam. I've done that before as well. I recommend finishing your neckline with bias tape or a narrow hem before moving on.
Before any piecing of the pattern takes place: GET YOUR EMBELLISHMENT DONE. There is no way to apply potamioi (otherwise known as clavii in Latin, the vertical stripes that go over the shoulder) to a tunic once those side seams are in place. Get any roundels or other trimmings you want on as well. It's just easier to handle at this point.
10th Century Note: Potamioi weren't as popular during this time. You see them more on underwear than outerwear. But roundels and large blocks of trim on the hem and cuffs were in style.
Follow the diagram on the piecing. If you are going with the smaller gores you could cut it from the folded fabric, follow the illustration at top, if you cut gores from a separate piece, follow the bottom. Apply trim over the seams where the upper sleeve joins the lower sleeve.  This is something else you want to do before you sew up the side seams.
Now all that is left is to join the front to the back along the side seams, hem the sleeves and bottom, and finish trims, and you're done!
Delmatikion (Dalmatic) instructions:
Recommended fabric: Linen, silk, damasks/brocades, light to medium weight wool
Recommended yardage: 5 yards of 60" wide
Think of the Delmatikion as an oversized tunic, but as the tunic can be worn by itself as one layer for lower classes, the dalmatic is an overtunic only, typical of aristocratic dress. This is a unisex garment, and can be tailored to have fitted sleeves for men, or the ultra-wide sleeves on women as the Byzantine period progresses. Either way, this is where you really get to jazz up your wardrobe. They can be floor length or short enough to show off your tunic embellishments. They are not short over-tunics, this is formal wear.
Sleeves can be short, long, or extra-wide as was the style in the 11th and 12th centuries when my persona lived, but for the 10th Century, we're going to keep them straight, and not droopy. Typically, the dalmatic was cut from one piece of fabric, including the skirt width, whereas the tunic had gores. However, gores are still a perfectly period option in the event of a smaller bolt width. Follow the instructions as laid out above for the tunic, and you should be in good shape. As far as embellishments go, the best way to go about this is to follow some period examples.  Potamioi/clavii (vertical stripes) didn't seem as popular on dalmatics as the centuries progressed, and richness was displayed not so much with embroidered bands of trim but rather in the heavy silk damasks and brocades that were in fashion. My drawings including potamioi to better illustrate how to embellish, but they weren't really in fashion during the 10th Century. Stick with ornate collars, cuffs, and hems.
Note that I included a curve at the edge of the skirt portion to better facilitate trim application on the dalmatic's hem. This is optional, especially if separate gores are chosen, but note that wide trims will require careful piecing and pleating to better conform to the hem.
Just like in the Tunic instructions, remember you NEED to add any embellishment BEFORE you close the side seams.
Materials and Embellishments:
Unless you plan on weaving your own lampas or trim (Hey, I know people that would!) here's a quick guide to help you get started on what to look for:
Your basic fibers are linen, cotton, wool, and silk.
Cotton was very different in period than it is now, so, unless you have a fancy hand-printed cotton that would have been imported from India or Persia, I'd avoid it. It was mostly a low-class material.
Linen was for undies, but in the SCA, it's the most durable fabric on the market. And, thanks to modern chemistry, available to be dyed into pretty much any color.
Wool should be on the light side, versus coat weight, and silks are best with a smooth weave. Shot is fine, and period! Dupioni is used a lot by SCAdians for affordability and the colors available, I use it, nobody will judge. If you can get a smooth silk like taffeta without breaking the bank, go for it.
Of course, brocades in geometric shapes or period roundels is ideal for your outer garments, but don't murder yourself in polyester if that's all you can find. A solid silk, wool, or linen garment with bands of the poly brocade as trim creates a period look without the death by dead dinosaur. If you can swing it, your best sources for that would be Sartor.cz, and Puresilks.us. I have ordered from both. Sartor is superior, and so is their price tag.
Do not wear silk, wool, or especially, polyester against your skin. Please make your under tunic out of cotton or linen. This is for your own safety and comfort!
Trims were typically woven rather than embroidered, and then appliqued to the garment. They could be simple contrasting colors of fabric, or ornate bands of brocade. A good "hack" is to purchase vintage sari border from Etsy or Ebay. Just budget accordingly, you will need 6-8 yards to trim an entire garment. Potamioi stripes will take 5-10 yards of trim! This is the most expensive part of being a Byzantine. I hoard trim like a dragon because when I find a sale, I will buy whole rolls.
Here's a "Cheat sheet" for each garment on what it should be, for planning purposes:
Kamision/Undertunic: Fine cotton, or lightweight linen solid, typically white/natural. Trim visible on cuffs, sometimes hems, sometimes neckline. Occasionally have potamioi.
Men's leggings (think braies and chausses): Patterned fabric is seen a lot, so consider silk brocade if you can swing it, if not, look for a woven patterned linen or wool.
Himation/overtunic: Solid color linen, wool, or silk, with brocade bands or facings on neckline, cuffs, and bottom hem. Roundels are a good embellishment option, as well. Especially high-up aristocrats could have brocade silks. Contrasting trim on brocade is seen a lot. Men trying the Manazan pattern could put the front neckline flap in a contrasting color or fabric.
Women's kolovion: Solid linen, wool, or silk with a band of trim on the bottom hem.
-So you wanna be a Varangian?
There are currently thousands more Varangians serving in the SCA than there were in the actual imperial service between the late 10th Century to the Fourth Crusade. In fact, a lot of folks don't even know that the formal Varangian Guard was not formed until the reign of Basil II, around the year 988, so it's a shockingly small window from their to 1204 in historical speak. Even more interesting, is that the demographics of the guardsmen changed frequently, usually depending on geo-political issues in Northern and Western Europe.
For example, after the Norman Conquest, many Saxons sold their lands to the Normans, and fled to Constantinople to enter imperial service. There were so many English expats, that a colony, known as "New England" (No, I'm not lying) was founded on the Black Sea. This is chronicled in the Saga of Edward the Confessor. This instance, is of course, later than what the incoming royalty desire, so by focusing on that tail end of the 10th Century when the guard became a formal entity of the court, the primary demographic would have been Kievan Rus. The Swedes and Norwegians, including Bolli Bollason and Harald Hardrada, came in at a later date.
There's a lot of SCAdianisms on what the guard wore, including this weird "color code" for tunics that has something to do with red for the emperor, green for the empress, and blue for off duty.  I have never seen such a "code" in my studies. Most manuscript evidence points to blue tunics, slim pants, gold armor, the double-headed "Dane"axe seen in some artwork, and a great sword that may be the famed "rhomphaia" as far as "on duty" attire goes. There is limited evidence that they wore the large "Rus" pants that are common in the SCA, so it appears that they wore the clothing of Byzantine infantry, rather than maintaining any real patterns of their homeland. They were permitted to maintain the religion of their homeland, and their possessions, so it's possible that there was jewelry or motifs in play, but from what archaeologists have found in grave sites in the Norse countries, Byzantine jewelry appeared to be more desirable.
Check out Varangians of Byzantium by Sigfus Blondal as a great source. You can find it on Amazon here: https://www.amazon.com/Varangians-Byzantium-Sigf%C3%BAs-Bl%C3%B6ndal/dp/052103552X
Heads up about using icons as a source:
Religious iconography makes up a massive portion of extant Byzantine art, and can be a fine source for garb inspiration. It's important, however, to know what you're looking at. Certain figures are stuck in a time capsule, while their donors or other happenings in the art represent the contemporary era. For example, Mary is always a 6th Century noblewoman, it doesn't matter who's standing next to her. This is the same for Jesus, Joseph, John the Baptist (though he's usually in a scary hair shirt), the Archangels, and most of the Apostles, they're permanently "stuck" in the 6th century, or sometimes even earlier. Depending on when a saint died, they could be wearing the clothing of that period, and the icon was patterned from it (Yes, they're patterned. It's why they always kinda look the same), but, they're almost always in imperial dress, versus simple aristocratic. Imperial supporters, or donors in a donor portrait fresco or mosaic, are almost always the contemporary look.
Here's another from the Hagia Sophia, dated the mid 12th Century. Mary looks NOTHING like Empress Irene.

This section intentionally left blank for upcoming questions to be answered!